Sun 16 Mar 2003
This Sunday on b00mb0x radio
(all times EST cuz assorted is typing this; hehe – +5hours for GMT)
11:00am-3:00pm – assorted plays good and mellow mixes from the website to start your Sunday offhttp://b00mb0x.org. in a friendly mellow place. hehe.
3:00pm-5:00pm – zumbar takes his first turn bringing youhttp://b00mb0x.org. what zumbar brings you. good stuff.
5:00pm-7:00pm – mekajinn takes his first turn at Sunday playing. Should be interestinng and good; of course of course.
7:00pm-?? – Diego RAWKs the house.
SO TODAY, FROM 11AM-10PM (EST), CLICK HERE FOR B00MB0X RADIO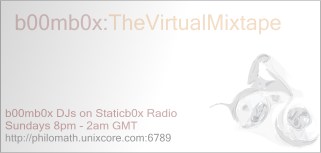 No Responses to " b00mb0x radio today "